Engagement in the workplace is a significant predictor of organizational success and Performance.  Unfortunately, according to Gallup, only about 1/3 of our U.S. employees are engaged and it is not getting any better. Many employers are struggling today to experience high engagement in the workplace. Many are focused on employee satisfaction, home-grown employee surveys, and coping with the differences in our Millennial workforce, yet engagement eludes them.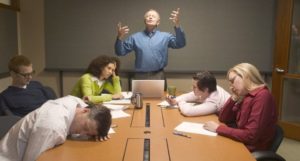 What is Employee Engagement?
Gallup defines engaged employees as those who are involved in, enthusiastic about and committed to their work and workplace. They contribute to the organization in a positive and productive manner and are more likely to stay with the organization. I describe them as employees who bring their heart and head to work every day. There are 3 types of employees in any organization: 1) Engaged, 2) Not-Engaged, and 3) Actively Disengaged.
1)   Engaged employees work with passion and feel a profound connection to their company. They drive innovation and move the organization forward. Engaged employees typically perform at consistently high levels and they are excited and typically "go the extra mile".
2)   Employees who are Not-Engaged are essentially "checked out", or sleepwalking through their workday. They are putting in time, but not energetic or passionate toward their work.
3)   Actively Disengaged employees are toxic to any organization. They aren't just unhappy at work, but they're busy acting out their unhappiness. Each day, these workers undermine what their engaged coworkers accomplish.
Business Performance and Engagement
Gallup has invested decades of research through the survey of great managers and 29 million employees to discover what drives employee engagement. They have developed a survey mechanism – the Q12, which has significant correlation to employee engagement. Similarly, it has a significant connection to business outcomes. Organizations with high employee engagement have significantly better performance than organizations with low employee engagement.  According to a recent 2017 study, Gallup has discovered that business units in the top engagement quartile of those studied have the following results versus those business units in the bottom-quartile:
·     21% Higher Productivity
·     22% Higher Profitability
·     10% Higher Customer Metrics
·     37% Lower Absenteeism
·     48% Fewer Safety Incidents
·     28% Less Shrinkage
·     65% Less Turnover
Twelve Questions to Measure Employee Engagement
Companies have devised numerous ways to assess and drive employee engagement and many of them have no real correlation to the goal of engagement. Gallup has defined 12 questions with the highest impact on engagement. The key elements of engagement are hierarchical based on employee needs from the most basic to those pertaining to growth.
Basic Needs:
1)   I know what is expected of me at work.
2)   I have the materials and equipment I need to do my work right.
Individual Contribution:
3)   At work, I have the opportunity to do what I do best every day.
4)   In the last seven days, I have received recognition or praise for doing good work.
5)   My supervisor, or someone at work, seems to care about me as a person.
6)   There is someone at work who encourages my development.
Teamwork:
7)   At work, my opinions seem to count.
8)   The mission or purpose of my company makes me feel my job is important.
9)   My associates or fellow employees are committed to doing quality work.
10) I have a best friend at work.
Growth:
11) In the last six months, someone at work has talked to me about my progress.
12) The last year, I have had opportunities at work to learn and grow.
These elements of engagement are simple, but driving engagement is a challenge and must be strategic and intentional. Leaders in pursuit of better business outcomes and winning people strategies must invest in their most important resource – their employees and they must do so with proven methodologies. Get Engaged – Fast!
About the Author:
David Barski is an executive business coach with over 27 years of management and leadership experience in Fortune 100 companies. David is a Gallup-certified Strengths Coach and an expert in driving employee engagement and has a passion for helping organizations grow and achieve their mission by investing in winning process, technology and people capital strategies.